I am a veteran, award-winning teacher who recently discovered how I could significantly improve my teaching. I did it by learning to use the research-based strategies of Explicit Direct Instruction (EDI) developed by DataWORKS founders John Hollingsworth and Silvia Ybarra.

When I first heard about EDI, I was frustrated, skeptical, and a bit resistant – probably like many teachers in today's classrooms when you first hear about "something new." But, as I saw the results for my students and others I observed, I realized that this method really works! Moreover, I felt even more confident about my teaching. I knew WHY I was using any particular procedure, and I felt I was connecting with my students much more effectively – to their benefit. Let me tell you my story.

My Background

I graduated in 1972 from the University of Illinois with a Master's degree in Teaching of English. Okay, I know that dates me! But I want to show you the range of experience I've had. I did my student teaching in the Chicago suburbs, and then got my first job teaching high school English in Puerto Rico at an army base school for federal dependents. During my school years, I was turned off by teachers who lectured at me, and so I was determined to run a "student-centered" classroom. That was all the rage at that time! I facilitated discussions, assigned individual projects, and used some workbooks for grammar and vocab.

Later, I moved to California, got my elementary credential, and taught eighth grade in a low socioeconomic community in the Central Valley. I also substituted at every grade level K-8, and taught English full-time at three different high schools. One of my principals in his evaluation said I was "a born teacher."

Then, I did seminars for many years for businesses and non-profit organizations using lots of PowerPoint lectures for those audiences. But eventually, I wound up teaching English for two different colleges. In 2010, I was named Instructor of the Year for one college. I don't say these things to brag, but to show you that I was seen as a successful teacher. What more did I need to learn about teaching?

Enter EDI

Then, in late 2010, I joined DataWORKS as an editor and curriculum researcher to write lessons for all grades. They put me through a training program to learn about EDI. I worked with three or four consultants, and saw a variety of teaching styles. But each person used the basic framework of an EDI lesson. Then, since I was still teaching part-time at one college, I used a few of these EDI lessons with my classes. I wasn't very good at it yet, and it was the middle of the term, but … the students seemed to grasp the concepts much better, there was a more focused engagement in the class, and I felt more organized – and I was already a super-organized teacher!

My three big take-aways!

So, what changed? When I reflect on what I gained from using EDI, I see three big upgrades to my teaching.
Upgraded Focus. Now, instead of general objectives for each course, I had precise Learning Objectives for each lesson! This allowed the students and me to stay more focused during the class. Also now, instead of building a lesson around an activity or theme or project, I built a lesson around a concept and practiced using the concept through various examples.
Upgraded Interaction. Now, instead of leading a general discussion of the ideas or skills that we were studying, I was able to involve the students with Pair-Shares or Whiteboards. I could see which students understood the ideas and I had every student participating. It also helped that I called on people randomly. Also now, instead of asking general questions to see if the students understood, I was able to ask specific higher-order questions that made them think. This actually led to better discussions and clarified gaps in their understanding so I could reteach as needed.
Upgraded Lessons. Now, instead of lessons that develop based on the discussion, or based on the individual projects, my lessons have more structure. They aren't rigid like the old lectures that first turned me off to teacher-centered learning. They are a framework that has several parts that I go through in a good sequence. Instead of talking about ideas and then having students practice them as was my usual practice, I now can use a PowerPoint presentation and work the page. This way I ensure I cover key concepts and have practical, useful examples that are designed to help me explain clearly.
The Grand Synthesis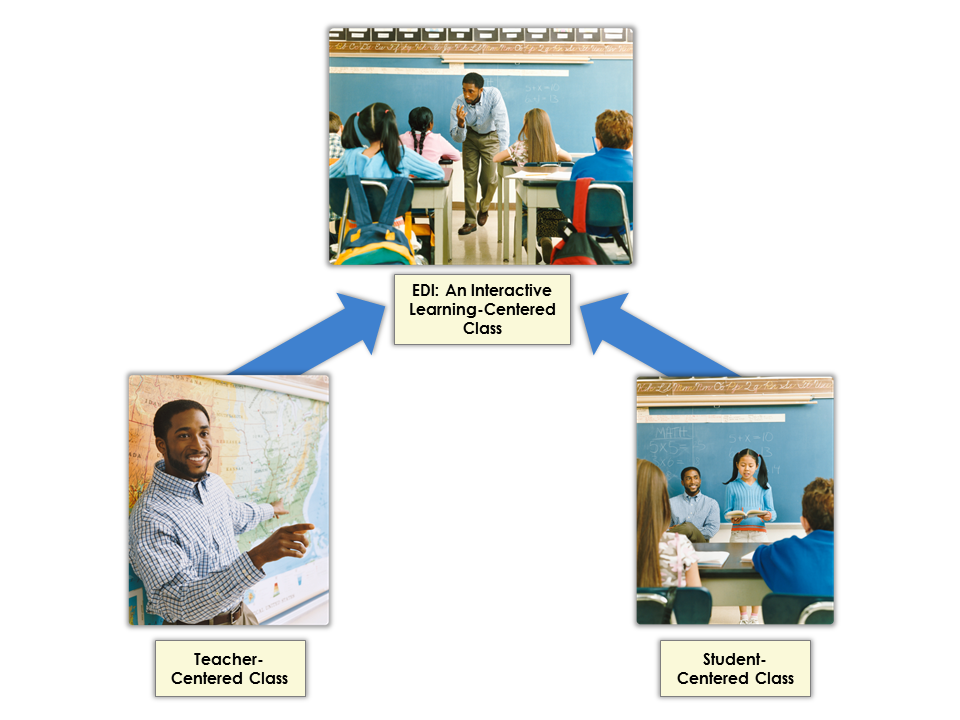 This experience has led me to a startling conclusion. EDI is NOT student-centered, and it is NOT teacher-centered either. It is both! What do I mean?

There is a big dichotomy in the field of education between two groups. On one hand, there are educators who believe that the key to student learning is to let students discover concepts through inquiry and project-based learning. On the other hand, there are educators who believe the key to student learning is to lecture on the concept or skill, and then "drill and kill" until students get it. What I have discovered is that EDI accommodates both camps – and leads to very effective learning.

EDI provides the direct teaching of concepts and skills, but because each lesson is interspersed, nearly every two minutes, with Checking For Understanding using Pair-Shares and Whiteboards, the students are fully engaged, using the language and skills being taught, and not feeling lectured to. It's a grand synthesis of teacher-centered and student-centered education. It is effective teaching and effective learning!

In fact, the founders of EDI say they didn't invent anything new. They simply did the research and pulled together all of the best research into one practical methodology. Thus, EDI on the theory level is also a synthesis of what works in education. In both theory and practice, EDI brings together the various strands of education, giving educators the tools for what works!

How have you changed your teaching methods in recent years? If you have applied EDI in your class, what changes or upgrades have you noticed? Discuss your experiences in the comments section below. Or, if you wish to share your story in greater detail, email us (info@dataworks-ed.com) and your story could be featured on a blog post!