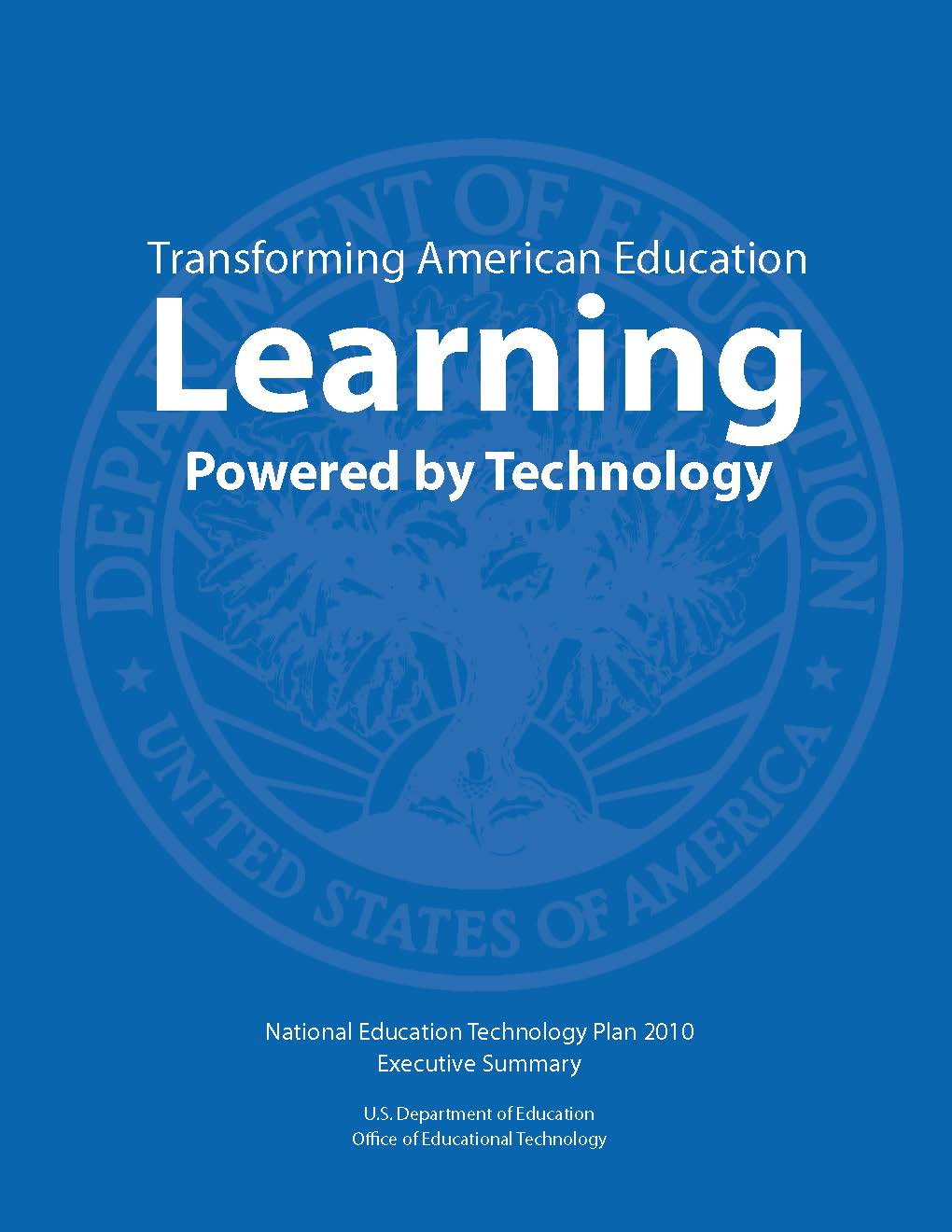 In November 2010, the U.S. Department of Education released the National Education Technology Plan. As we've mentioned in earlier Part 1, Part 2, and Part 3 this plan is a broad vision for schools and districts to implement technology for learning. In this post, we will look more closely at the big ideas for assessment in the Plan.
The Plan's 3rd goal is: Professional educators will be supported individually and in teams by technology that connects them to data, content, resources, expertise, and learning experiences that can empower and inspire them to provide more effective teaching for all learners.
A New Model: Connected Teaching
The Plan describes how today most teachers teach in isolation. Teachers rarely visit other classrooms, and their professional development occurs in occasional workshops that offer little opportunity to integrate what they learned into their classrooms. Half of all new teachers leave the profession within five years. The Plan states that these conditions exist because educators do not have the tools to do their jobs well: "Our education system holds educators responsible for student achievement but does not support them with the latest technology the way professionals in other fields are supported."
The Plan states that technology can help better prepare educators and increase their competencies by "enabling a shift to a new model of connected teaching."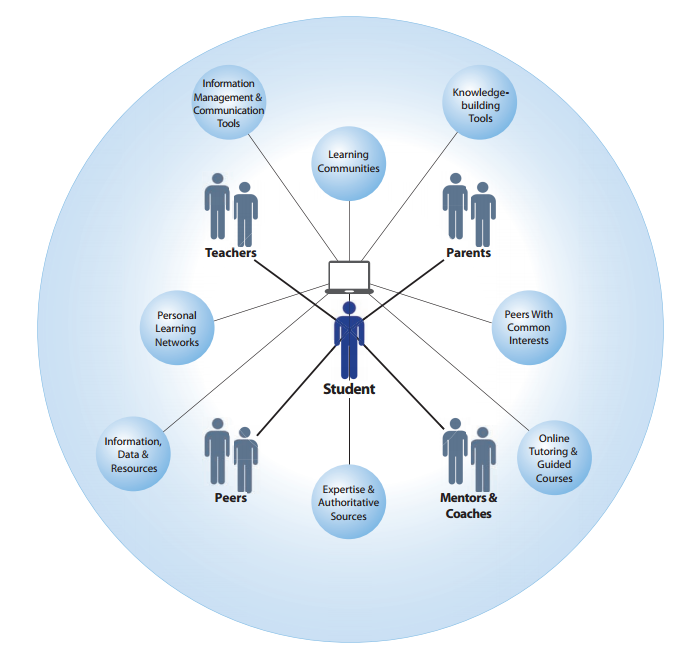 Connected Teaching includes these elements:
Teachers will have 24/7 access to student data and tools to help them gain

insights that will help them better meet students' needs in the direction of personalized learning.

Teachers will be connected to content, expertise, and activities through online communities.
Teachers will be connected with best practices of teaching, with other professionals, and with personal learning networks.
Connecting with Students and Data
The Plan points out that, as student learning environments become more complex, teachers will need to use commercial or open-source learning management systems. These will allow teachers to coordinate course materials, syllabi, assignments, and discussions in one place. One example is an online writing workshop environment used by a school in New York. Students can post writing samples, hold discussions, and use animations linked to quiz data, feedback, and grading.
Such online environments could also allow school administrators to join in on a virtual class, or give parents a virtual tour through a class project. Immersive environments can also be used to provide simulations and models for science, history, and other subjects.
While the Plan affirms the boost that technology can give to learning, it emphasizes that "teaching is fundamentally a social and emotional enterprise" and that the most effective educators connect by offering opportunities for students' creativity and self-expression. Technology can help here by providing digital authoring tools for multimedia projects and by providing online communities for sharing what they create with the world.
Connecting with Content and Online Communities
Connecting widely to other experts or communities is a way to break through the traditional isolation that teachers face. This makes the classroom a rich, learning environment that the teacher orchestrates for the students' benefit.
Teachers can connect to guest speakers located anywhere in the world. It can be a lecture, a scientific demonstration, a musical technique, or a virtual tour of a museum exhibit. Students can interact live, and it can be archived for later viewing.
Teams of teachers can connect within a school, or between a school and homes, or other educational settings. The classroom is no longer a self-contained unit; it's a hub for learning activity.
Teachers can connect to specialized or exceptional educators, such as for STEM, to bring the best teaching to rural or economically disadvantaged students. Such teachers/online classes could be made available to every zip code.
One example of such an online learning community is the Math Forum. It is based at Drexel University's School of Education, and provides an array of resources. Math Tools is a library of interactive lessons and materials. There is also a Teacher2Teacher section for accessing articles on current issues in math education and discussing with others. Students can send letters to Dr. Math, which has 200 to 300 experts who answer the questions. Problem of the Week is a popular feature where students around the world submit answers online, showing their work, and experts reply, guiding students to find the right answer.
Connecting with Best Practices and Other Teachers
Through modern video technology, teachers can view outstanding demonstrations of teaching practice, and teachers can videotape their own teaching and analyze it for new insights. In England, Teachers.tv has been set up as a collection of multimedia resources with the mission of spreading best practices in education as widely as possible. It is broadcast via internet all day, via television a few hours a day on different stations, archived in a searchable library, and links are available in key media outlets. The site aims to show, not tell, how best practices work.
Teachers can use social networking to develop local and global communities of practice. PBS TeacherLine is one example of an online system that helps teachers collaborate and build community, and they are making their courses more interactive to allow sharing. The U.S. Department of Education is also funding research on online communities and setting up at least six such communities to help teachers leverage the use of technology.
One suggestion by the Plan is to create Personal Learning Networks (like Professional Learning Communities but technology-based) that teachers would participate in from their college years through in-service education when teaching, and include professional organizations. TFANet is one example of this; it is a website provided by Teachers For America for that organization's new educators. It not only allows sharing of ideas but also downloading resources such as lesson plans, units, data-tracking tools, and classroom management strategies.
The Plan notes that developing networks like this will require re-thinking how we measure continuing education for teachers. Instead of time-based measures (so many units taken), it will involve a move to competency-based measures (what skills can you do).
Even with gaining skills, facility, and connection with others and content through technology, the Plan recognizes that teachers still must teach! The Plan says educators "must support their students' engagement with technology resources for learning, highlighting the important subject matter content, pressing students for explanations and higher-order thinking, tracking their students' progress, and encouraging their students to take more responsibility for learning."
The National Plan suggests this model of Connected Teaching in order to put the educational field on a par with other professions in use of technology – and to boost the effectiveness of learning for students who have grown up with technology and will work at jobs that use technology. Each teacher – and each district – needs to start making connections now – to students and data, to content and online resources, and to each other – in order to fully integrate technology into their learning environments.
Here's a link to help teachers stay connected. It's about free online courses at top colleges.
https://www.educationunlimited.com/blog/what-universities-offer-free-online-courses/
What do you think about this model of Connected Teaching? Which areas are most important to you? Discuss your ideas in the comments section below.