Each state that has adopted Common Core State Standards will select an assessment consortium to assess how children are progressing in school. The two options most widely chosen at this point are: Smarter Balanced and PARCC. Each assessment consortium has provided practice test questions and today we will review one of these questions and discuss its potential impact on classroom instruction.

Below is an assessment question from Smarter Balanced grade 6. Smarter Balanced uses two types of assessment questions: Selected Response and Constructed Response.

Selected Response requires the students to select one or more correct answers.
Constructed Response requires the students to create their own answer.
Sixth Grade Context Clues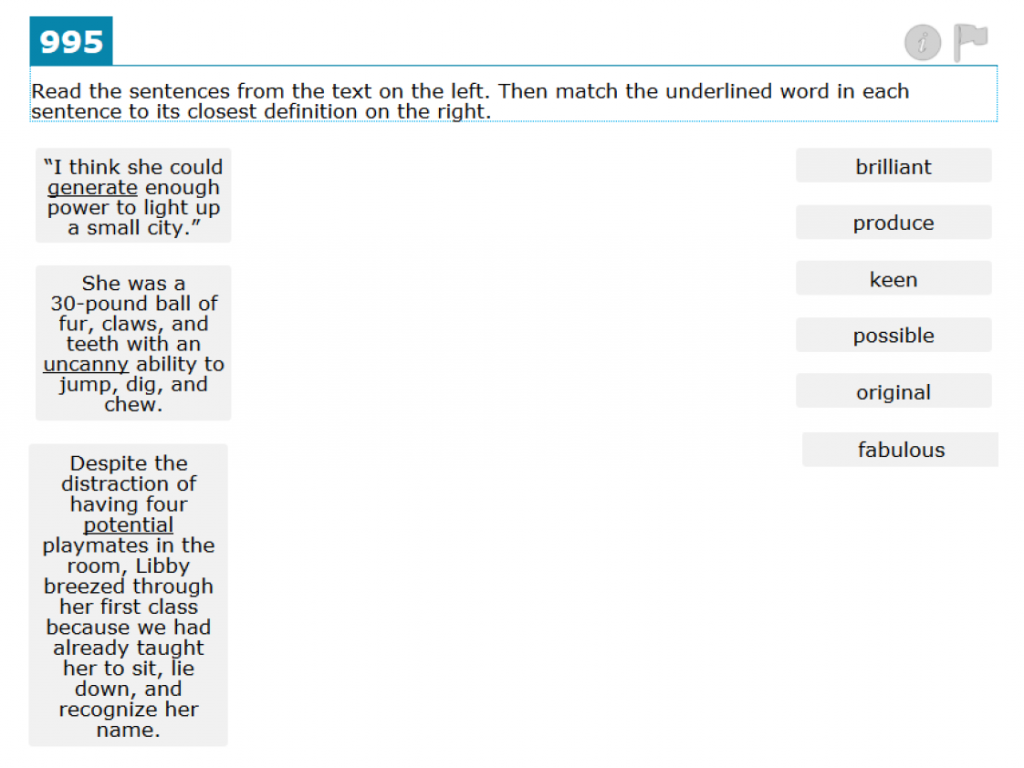 Common Core Standards Assessed

6.L.4 Determine or clarify the meaning of unknown and multiple-meaning words and phrases based on grade 6 reading and content, choosing flexibly from a range of strategies.
a. Use context (e.g., the overall meaning of a sentence or paragraph; a word's position or function in a sentence) as a clue to the meaning of a word or phrase.
Solution
From Smarter Balanced Scoring Guide

To receive the full-credit score of 1 point, the student must correctly match all three options. The correct responses are "generate" matched with "produce," "uncanny" matched with "keen," and "potential" matched with "possible." No points are awarded if student only matches one or two of the words.

What do we learn from this item?

This question assesses if students can determine the meaning of words using context clues. This is a non-traditional format for assessing this concept. Traditionally, students are only given one word at a time. This question contains three words to define using six possible answers. Students must correctly identify all three words to get one point. Some of the answers are synonyms to the underlined words such as generate and produce.  The possible answers also range from second to fifth-grade vocabulary words from the DataWORKS K-6 Master Vocabulary List (compiled from the Marzano list and high-frequency word lists such as Fry and Dolch). In addition, the underlined words generate and potential are fifth-grade words from the Master Vocab list, so the students may already know their meanings from the previous grade.  [Need link to DW-compiled Word List  http://dataworks-ed.com/checklists/ ]

How is this concept assessed in other grades?

Context clues are addressed in the Common Core Language standards in grades K through 12.  Smarter Balanced assesses this concept (context clues) using different approaches and different academic vocabulary among the grades. At times, students are expected to select the meaning of one underlined unknown word by responding to questions with four to six answers, and other times students are expected to write their own response using context clues from the text to explain the unknown word.  Many of the test questions or items assess context clues at the sentence level instead of the paragraph or text level.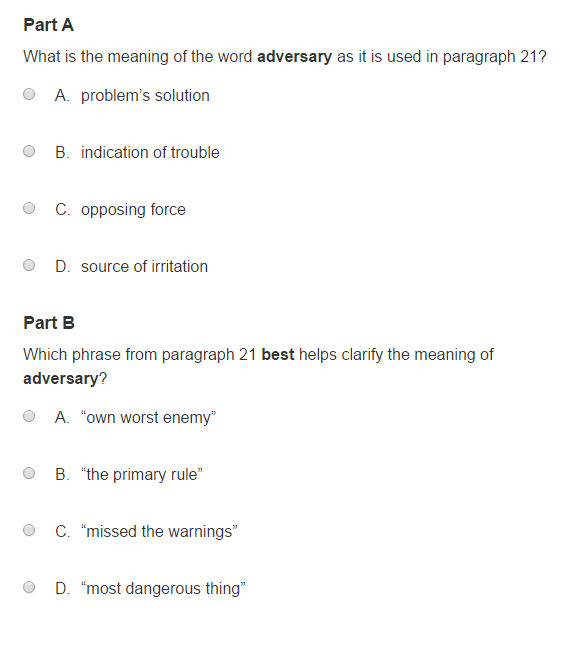 Example
This concept is also assessed by the PARCC consortium. Students are given a selected response question with four answers and are required to provide a phrase from the paragraph that helps clarify the meaning of the unknown word.

Example
In addition to the Language Standards, context clues are addressed and assessed under Common Core Reading Literature and Reading Informational Text standards in this Smarter Balanced 8th grade sample item.
Suggestions for classroom instruction

It is important to teach the students to identify the meaning of unknown words using specific context clues such as definition or example, compare or contrast. Also, students must understand that there are sentence clues and paragraph clues that help determine the meaning of an unknown word. It is also important to include non-traditional methods for assessing context clues as seen in the Smarter Balanced test question or reversing the question by giving the definition of the unknown word and having the students identify the context clues that defined it. For example: the word regenerate means regrow. Underline context clues in the text that support the meaning of the word regenerate. In addition, students must understand that correct responses are not always just word synonyms, but often phrases that cannot be inserted in the sentence as is.Lastly, teach vocabulary contained within lessons every day to expose students to new words and their meanings.

The item does not use the academic vocabulary context clues but instead uses the term definition. As a result, students must be taught academic vocabulary and related synonyms for the academic language, so they understand what is being assessed.

Citations

Smarter Balanced Practice Assessments

PARCC Practice Assessments
For more information about Common Core Assessments, be sure to check out DataWORKS' Assessment Resources.
What do you think of this assessment item? How do you think your students would do? Please share any comments or feedback below.